Disclaimer: I received this product complimentary for testing and review purposes from Influenster. The following is indeed my true and honest opinion of this product.
If you are unfamiliar with the Sally Hansen Salon Nail Effects, then this post will give you basic knowledge about the product. I have tried Jamberry Nails, Kiss Nail Dress, and Incoco strips in the past, but not Sally Hansen. There isn't any particular reason as to why I have not tried this before, other than the fact that I just haven't had the impulse to buy them. Luckily, I received this kit in my Influenster Spring Beauty VoxBox.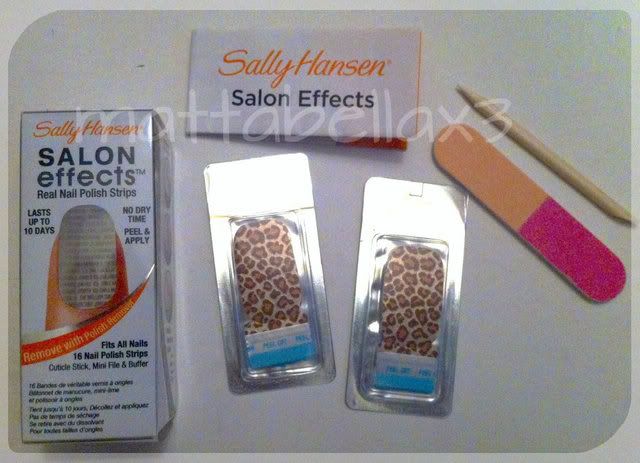 16 Nail Polish Strips in 320 Kitty, Kitty,
Quick Facts about the Sally Hansen Salon Effects:
No dry time
Lasts up to 10 days
Removes easily with nail polish remove
r
40 styles to choose from
Retails for about 9.99 at
chain drug stores, food stores and mass merchandisers nationally. (I'm pretty sure I've seen it cheaper at WalMart)
Application:
Application is fairly easy, especially since I have experience with nail strips. If you follow the directions and take your time, you will
achieve
a fairly quick and inexpensive mani.
I did notice that there was a tip that
sated
: "If possible, for a uniform look, avoid over-stretching patterns." It is easy to over-stretch the strip so be light and gentle when applying. Also, it can be easy to have ripples and bubbles, but like I said, if your patient, it really will turn out for the best.
Here are the instructions included in the kit:
And the finished product:
I did not add a top coat because I wanted to test the strips out alone. They did very well seeing as I got about 5 days of wear before chipping occurred. For the price that these retail, I will be purchasing more.
After testing this product I rate it 10/10 because the price, application, and total length of wear seems to uphold my expectations.
Be sure to follow the Sally Hansen brand on Social Media Sites:
@salllyhansen with #saloneffects for the hashtag
And don't forget about Influenster:
@Influenster #BeautyVoxBox
So, have you tried any nail strips before? What are your thoughts? I love reading your comments so comment away!